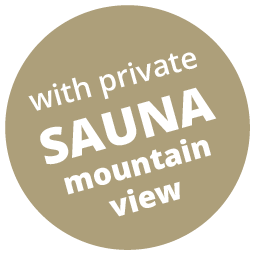 Our dreams become a reality
Our hosts, Michaela and Christian have been taking care of guests ever since they were small. In particular Christian, whose parents Monika and Hans have been excellent mentors. Hosting guests has always been a passion which Monika and Hans Gruber have cultivated since becoming a couple. The doors at Tschenglserhof, which they have managed for many years, are always open. Throughout the day, friends and family drop by for a glass of their excellent wine or just a chat. Whether it's a lavish party or a playing cards tournament, everyone is welcome and Monika and Hans are always on hand to lend an ear or offer some wise advice. There's always something to do and they are never lonely. Their three children have now grown up and their eldest son, Christian, the farm's successor, is making his mark along with his wife Michaela and their daughters, Marie and Eva.
"Månchmål muass ma's uanfoch lei d'rwortn!" Everything takes time, be patient and wait. Only then, do things begin to take shape. The Gruber family didn't hesitate when an uncle decided to put "Leckplàtt" up for sale. Originally, the plan was to turn it into a holiday home for all the family. But when there's a farm to run, a job to do in a large company and two small children to raise, holidays are quite rare! The solution was easy: renovate the house and create a luxury holiday retreat for guests. After all, hospitality is something they've grown up with, it's in Christian's blood!
Restoring and renovating a protected building comes with the responsibility to respect, maintain and preserve its original aspect. More complex than one can imagine! Despite everything, it has turned out to be a labour of love; the careful selection of materials, the combination of traditional colours and contemporary shapes, the many high-quality details – all bear Michaela's signature.
The Grubers place great importance on tradition and are profoundly attached to their land and its people. They are dedicated to preserving rural life, ancient customs and habits, meaning that much of what can be bought in a convenience store, can also be produced by them at home and on the land, offering a most definite superior flavour. Our guests in the chalet have the opportunity to taste what the seasons have to offer. There's also the chance to purchase the best souvenirs – those which can be savoured with relish back home.
Four years pass and an unexpected opportunity comes knocking: the house next door is up for sale! Ready for a new adventure, Michaela and Christian decide to buy and so, Chalet Zoila is born. The two chalets are divided by three larch trees, a meadow and gentle hill. What they do share is the love and dedication which brought them to life.
Goods from Gruber
An ordinary farmer's garden with orchards, shrubs, flowers, vegetables and a few "Hendl'n" hens. But as always, everything depends on what you make of it.
Picking apples is fine, but berries, phew! That's a lot of work. But then, naturally (all naturally) the rewards – apple juice without preservatives; fruit spreads, cooked slowly and delicately spiced; syrups that taste of the summer sun; bunches of fragrant herbs….and eggs. Eggs from hens that have to be the happiest immaginable. Finally, there's our wine! That`s what we do best, and the quality proves that!
All of this can be tasted when you're a guest at the Chalet Hafling. And much of it can also be taken home, beautifully packaged of course, perhaps as a gift for a lover of flowers, office colleagues, the tennis coach. Or for your own pantry for a little holiday extension.
Discover Avelengo
Characteristics: with its 730 inhabitants and an altitude of 1250-1600 m, Hafling is located on the Tschögglberg, one of four districts: Hafling village, St. Kathrein, Hafling Oberndorf and Falzeben / Meran 2000. All easily accessible via a safe winter road. Furthermore, it's surrounded by spectacular mountain ranges such as the Ortler and Texel Groups in the west, the Ötztal Alps in the north, the Brenta group in the south and the Dolomites to the east.
Sightseeing
Unlimited! Including the Romanesque St. Kathrein church, the parish church of St. Johann with its stone relief on the exterior wall, the enigmatic tabernacle at the Nusserhof, and St. Oswald's church at Meran 2000. Whoever comes to Hafling, seeks an affinity with nature. On the plateau, there's only silence and clean, fresh air in abundance. Meadows and forests, mountains and peaks appeal to the young and old; every physical condition and every taste. And of course, let's not forget those timeless moments while musing on a bench, philosophizing about the muscle strength of ants, or collecting blueberries.