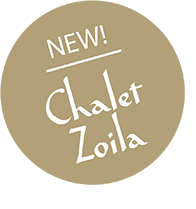 CHALET ZOILA: ADMIRE THE HORIZON, LOOK UP, GAZE INTO THE DEEP
A house with a long and exciting history, which we brought with care and great respect into the 21st century. You can notice that farmers, artisans and a couple of artists have lived here and all have left their mark. The facade of the house faces towards the sun: with a terrace, a balcony and many windows to the south that look into the depths of the valleys and the mountains. 170 square meters can accommodate eight to 12 people, with five bedrooms, three bathrooms, kitchen, large living room, plus a "Stube" (lounge) with table and bench for lying down in front of the wood-burning stove. The garden is a gentle slope and just behind the three larch trees, is our Chalet Leckplått.
Discover our premises:
Prices are calculated per night for the entire chalet for six guests with a minimum stay of 3 nights.
Bookable
Price/Night
all year - spring / summer / autumn / winter
christmas & new year / assumption day
each additional guest, age 14+ (more than six guests)
local tax per guest (over 14 years)
breakfast per guest (on request)
dinner per guest (on request)
Availability
Search here for free holidays in Chalet Zoila
Fully equipped house with common household products (filter coffe machine, Nespresso, Moka, toaster, detergents, dishcloths, kitchen roll, coffee filters, spices, vinegar and oil, sugar, etc…)
Towels and linens (down comforters, cotton sheets from controlled cultivation)
Starter Package with regional and homemade products
Wood for the kitchen stove and the kiln in the "Stube" (lounge)
Our tap water is drinkable
Hair Dryer, toilet paper, soap dispensers
Free wireless Internet access wifi and Radio bluetooth
All fees and taxes such as electricity, garbage, water, heating (floor heating in the bathrooms and radiator heating)
washing machine with detergent and iron
1x weekly cleaning with change of towels
Travel cot, Baby table seat, changing mat, stroller and baby carrier on request
Free access to the garden and the crops on the plot exklusive
Exclusive use of the entire outer area with deckchairs, garden furniture and the small playing house

childrens' outdoor games – sandpit, ball games, sack races, slackline (tightrope), etc…

Grill campfire with barbecue wood
Open parking spaces in front of the Chalet
Free use of all board games, game collections, PS3 with games and books
Final cleaning up to six persons
NEW! Free entrance for the public outdoor pool Lido Schenna, open from may till september
DAILY FRESH BREAD: The master baker from the village delivers daily fresh bread and milk for your breakfast – if you order on time the evening before. On request we will prepare your breakfast.
WARM FEET, SILENT SOLES: The best feeling after coming home: Take off your shoes and slip into the "Filzpatschen" felt slippers! Don't worry: We have enough for everyone.
LET US COOK FOR YOU: Immerse yourself in our kitchen: We'll cook for you traditional and local favourites such as Speckknödel bacon dumplings, Schlutzkrapfen ravioli or Muaß mush with recipes that have been passed down our family for generations.
HEALING MASSAGES AND PHYSIOTHERAPY: Necessary or just delightful? A massage will always do you good, physiotherapy is beneficial and refreshing. We will gladly arrange for a visit from a physical therapist and transform the Chalet Hafling into your personal spa.
VISIT THE FARM: Our farm is located in Meran, close to Hafling. We would be happy to take you through our orchards and vineyards, and invite you to a wine tasting afterwards.
HOMEMADE: We are happy to offer you dainties from our own farm and the surrounding area. What can you expect? It's alway a surprise, depending on the weather and the mood of the producers: cows, chickens, bees…
Even though we are not located directly in Hafling, we will be pleased to assist you with advice and practical help.
ARRIVAL / DEPARTURE: On the day of your arrival, the Holiday Chalet will be available from 3:30 pm. On the day of departure we ask you kindly to vacate the Chalet by 9:30 am.
PLEASE DO NOT SMOKE: For safety reasons, no smoking is allowed in the entire house. We ask our guests to kindly smoke exclusively outdoors, and to use the available ashtrays.
PETS: Pets are allowed on request (extra cost).
PREPAYMENT & BOOKING: The booking is binding upon receipt of the prepayment and the sending of the booking confirmation. The booking confirmation will be sent in written form by mail or otherwise.
PAYMENT OPTIONS: You can pay with cash as well as with bank card / debit card and credit card.
Our bank details are: Südtiroler Sparkasse
IBAN: IT25 G060 4558 5910 0000 0502705 BIC: CRBZIT2B021
CANCELLATION TERMS: There is no right of withdrawal as defined by the Italian Consumer Protection Code. We recommend that you obtain travel insurance. Nevertheless, we grant you right of withdrawal according to the following cancellation conditions as per Art. 1382 of the Civil Code:
Up to 28 days before arrival – 50% of the total amount
Up to 14 days before arrival – 75% of the total amount
Up to 7 days before arrival, no show or earlier departure – 100% of total amount
The deposit will be retained in any case.
CANCELLATION INSURANCE: We are looking forward to your visit. However, we recommend that together with the booking of your stay you sign a "Cancellation Insurance". This way, cancellation fees are covered and you can happily look forward to your vacation. Further information about costs and details of the "cancellation insurance" are available here>
Living spaces
The original and well-preserved "Stube", the typical Tyrolean living room (with its old pendulum wallclock), is the heart of the house. We don't only meet at mealtimes, but at any time of the day around the big table or better, for those who can't find space on the bench in front of the stove. Eating with a breathtaking view, admiring the horizon designed by the mountains.
The kitchen is spacious with plenty of space for cooks, both large and small, with cutting-edge cooking equipment and a wood-burning stove with a historic forged iron flap. Next to the "stube" is the living room, with access to the balcony, another favourite environment: a custom-made sofa with plenty of space for lounging during the holiday.
AREA RELAX
Four bedrooms are located on the first floor and one on the ground floor. Two rooms are equipped with new Box-spring beds, in the other rooms the bed frames have been restored and combined with new shelves and wardrobes in fine wood. Curtain rods have been designed together with an interior designer, along with carefully selected fabrics.
Three bathrooms: one with a shower and sink, one with a bathtub and shower, toilet, bidet and sink and the third, with a large shower, toilet and sink. Everyone happy: no morning queues. Only enjoyable chit-chats in the evening.
OUTSIDE
The garden around the house slopes to one side and is flanked by ancient shrubs and trees. The three larch trees stand guard at the Leckplått. In front of the house, facing south, you can find a large flat terrace – the best place to spend the holiday afternoons daydreaming. And for the children? There's a wooden playhouse.
The Cellar and the storage room offer space for all types of games and sport equipment
ZOILA
New times call for a new name. "Weberhäusl" (the weaver's house) had been the name of our Chalet Zoila for a long time. During the XVII and XVIII centuries, the house was a small farm with a stable, a barn and a residential building. In the 1920s, Franz Fromm, a wine merchant from Barcelona, travelled the world with his family and his servants, and in 1922 he bought a villa in Merano. It is assumed that his work had been very profitable: in 1924 Franz Fromm bought the two houses on the Leckplått, which at that time, were connected. Zoila, one of his daughters, married Georg Greeve Lindau – the actual painter who created the Santa Notburga fresco on the south wall of our Leckplått Chalet. Some of his paintings can also be found outside and inside the Zoila Chalet, including the fresco near the entrance. Even Zoila was an artist and had an eye for beauty and art. The two lived an isolated life up here on the mountain. The "Weberhäusl", as the Chalet was called at the time, offered them the privacy they sought.