Tradition and lightness, luxury and "joie de vivre "– how does that go together? Look for yourself! Our Chalets Leckplått and Zoila are located next to each other in Hafling in the middle of nature and yet close to the village with all that it offers. We are located not far from the spa town of Merano on the "Sunny side of the Alps". Each of our two houses has its own atmosphere, shaped by the people who have lived here for centuries, by their stories and threads of life. We have traced these stories and carefully picked up the threads. This is how these two historic houses have become very special holiday homes – houses that inspire, tempt and enchant.
CHALET Leckplått
The Leckplått – is a traditional name and is actually a slab of rock, on which our house was built 500 years ago. It's no surprise that it still stands here and will do so for many generations to come. This is our time now and, we know how to enjoy it. But sharing is a pleasure in itself and we want to share the delights of our holiday home. Get to know our house on the Leckplått, and you'll also learn something about us.
CHALET ZOILA
What a story: the female Spanish name Zoila originates from Greek and means "full of life"! It's also the name of the woman who owned this house for a while and lived here. Many stories are intertwined around Zoila Fromm and her family. Some we can tell you, others will still have to be discovered. A box full of papers, letters, documents await the explorers.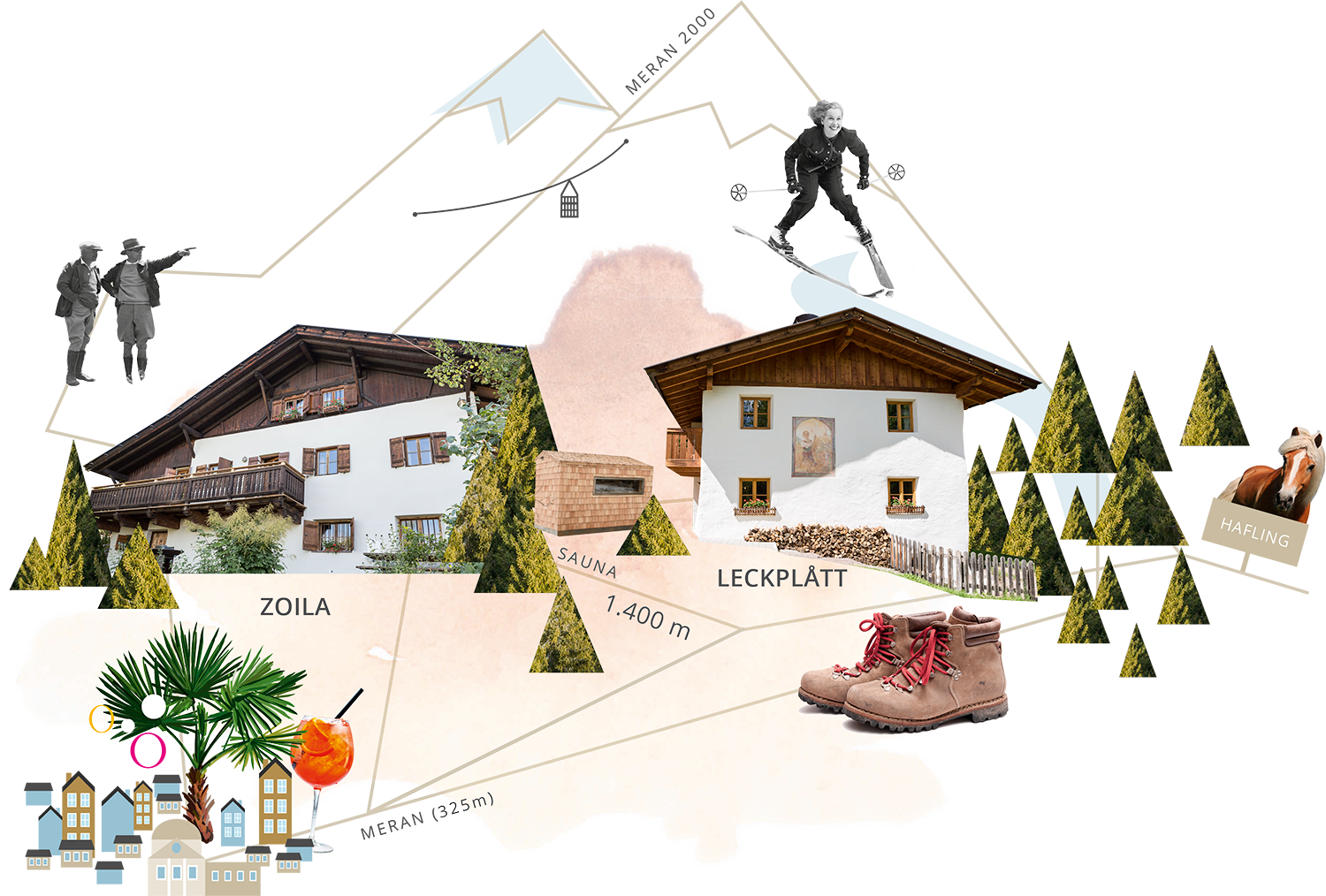 HAFLING NEAR MERAN
Hafling is located 10 km from Merano, which everyone knows (after all, Empress Sissi was there several times). There is a modern thermal bath complex, the famous Trauttmansdorff Castle and a racecourse.
The village is not far from the chalets: cafés, restaurants, a pizzeria and the bus stop (also for the ski bus) are within walking distance or a short drive away. The grocery store and butcher in Hafling are also a short walk from the chalets. The skiing and hiking area Merano 2000 is just around the corner, and countless hiking and mountain bike trails start on the doorstep. By the way: The Haflinger horses come from Hafling and are famous throughout the Alps as a strong, blond worker horse that you can rely on in the mountains.